Welcome to the Southwark and South London Society of Organists! The London Society of Organists was established in 1930 and the present Society was its South Eastern Branch. From 1961 the Branch became the Southwark and South London Society.
We are open to all, organists and those interested in organs and organ music. We run many events throughout the year, and are committed to promoting and supporting the knowledge and practice of organ playing, especially among the young, throughout Southwark and South London.
Please see some important notices below, and visit our News and Events pages for more information. If you would like to join us, click here!
---
Please see the latest newsletter here.
---
Please find our Member Directory and Survey forms here
---
Next Event
04/11/2023 Christmas Repertoire Afternoon – 2:30pm, Forest Hill, SE23
For the latest Society Events, please click on our poster below, or look at the Events page directly.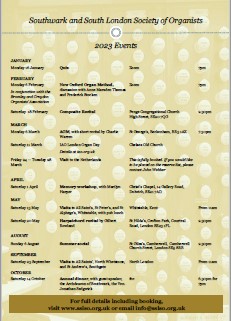 ---
Summary of the Society's activities
These two inserts describe the activities of the Society – click to enlarge: