A place of mystery and interest

In September I spent a few days in Hay-on-Wye, famous for its profusion of books and bookshops, and of course for the Hay Festival every May/June. It is a place where I have always felt somehow 'at home'. My chief reason for going this time was curiosity to see how the Bevington organ at St Mary's had settled down.
I last visited Hay in 2011, having read about this fascinating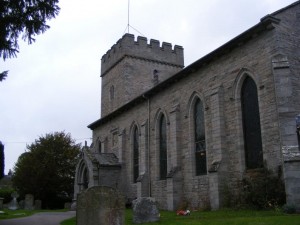 instrument in Organist's Review. At that time the instrument had only recently been installed and was still settling down.
On both occasions I found a warm welcome not only from a friendly congregation but also from an astonishing variety of beautifully well-behaved dogs. And when I confessed to being an organist, I was encouraged (on both occasions) to try out the instrument, of which they are justly proud. I was of course delighted to do so.
St Mary's is its fifth home, having started out in Hartley Hall near Cambridge. Its secular origin is evident in its sumptuously decorated case and magnificently stencilled pipes. With its curious position right on the edge of the balcony, and looking rather as though the organist has already plunged backwards into the abyss, it looks perhaps a little exotic for a church. But it is unmistakably beautiful and in the perfect place to lead the singing. The sound is absolutely wonderful and the action as prompt and responsive as one could ever wish.
The church was anxious to conserve the beautiful decoration of the instrument, and as the original built-in console was an intrinsic part of the case, they decided to retain it, though it is no longer functional. The organ is now played from a new, detached console at ground level where the organist is well in touch with choir, congregation and priest.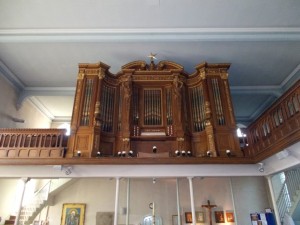 One problem was apparent soon after the organ was installed. It had been designed for a much smaller space with a lower ceiling and the pedal pipes did not adequately support the manual choruses. To have increased the power of the existing pipes would have spoiled their tone, and there was no space for new, larger pedal pipes, so a small number of digital electronic ranks was added to the pedal organ. A small green button on the console allows the organist to switch these stops between electronics and the original pipes. The digital section also includes a couple of manual stops which augment the existing ranks. There is even an alternative, more gentle electronic zimbelstern.
When I first visited four years ago they were still getting the balance right. It sounded good then but now it sounds magnificent. The tuba (digital) used to blare slightly, but now I would not have been able to tell which ranks were digital had I not been told. There are ravishingly beautiful flutes, warm confident diapasons, characterful reeds and a magnificent full organ which somehow manages to be rich and powerful without being shrill or overwhelming.
Fr Richard the parish priest, evidently well-liked by church and town-folk alike, is himself a brilliant and talented organist and composer.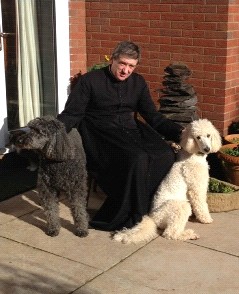 Before going into the priesthood he had studied music at Trinity College, London. The organ was his project, and he plays it nearly every day, whether for recitals or for the occasional service, including daily evensong (where he is often assisted by Curate Jimmy – his large blue poodle). His improvisations are legendary. He is well supported by Aled Liddington the organist and choirmaster at St Mary's, himself an excellent performer and improviser.
Fr Richard mentioned as we parted that at the Hay Festival this year he had been persuaded to try his hand as a cinema organist, and improvise a soundtrack to an old silent movie. With a touch of diffidence he suggested that if I looked on YouTube using the keywords "Father Richard" and "Nosferatu", I would find a short video commemorating the event here . St Mary's was packed for the showing and Fr Richard got a standing ovation. He is apparently already looking for another silent movie to accompany at next year's Hay Festival…!
The church's website, with more details on the organ is here.
The Birmingham Organist's Association website carries a detailed specification of the instrument, including the digital section: http://www.bhamorgan.org.uk/organ131.html
There is an interesting article about the church at: http://downloads.bbc.co.uk/wales/archive/bbc-mid-wales-hay-on-wye-st-marys-church-year-in-photos.pdf
John Mitchell