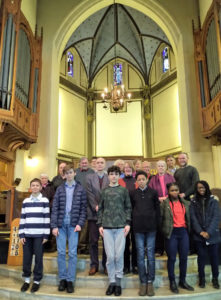 Despite the rather inclement weather, the SSLSO enjoyed the extra day of this year. More than 50 organists, their families and friends, and concert-goers gathered in Penge Congregational Church for the annual composite recital on the 29th February, 2020
This year, some members made their debut performance at this event, and of the 19 players, we were pleased to have eight younger organists, of whom four are current winners of the SSLSO's education awards. Their enthusiasm and enjoyment was clear to see, and we are grateful to their teachers, Marilyn Harper, Ashley Valentine, and John Webber, for their support and encouragement. You can enlarge the picture by simply clicking on it.
The full range of the three-manual T. C. Lewis organ was on display — strings and flutes, solo reeds, the full chorus — in works from Thomas Arne, through Buxtehude, Bach and Krebs, to Leighton and Oskar Lindberg, and works and arrangements by Corinne Hepburn, whose pieces are of great benefit, and delight, to those starting out.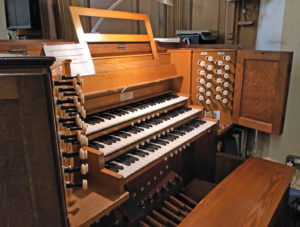 It was wonderful to hear, from our younger players, confident and secured performances, with a steady pulse, and some clear articulation and legato work. The inclusion of a hymn tune was perfect: not only seasonal, but it highlighted the value of learning of an essential skill at an early stage. Among the adults, we heard how to play a Bach chorale with sparkle and clarity, excellent performances of Bach chorale preludes, the middle movement of a Mendelssohn sonata that suited the performer and organ beautifully, and a nostalgic exploration of Brahms's character.
Our thanks to all at Penge Congregational Church for their welcome and hospitality, Marilyn Nicholson for managing all the practice sessions, the SSLSO committee for arranging the event, and our president, Harry Bramma, for joining us for the afternoon.
Bridget West (Committee Member)