Saturday, September 10th. 3pm – 6pm – former Director of Music at Southwark Cathedral Peter Wright led a session mainly on Flor Peeters at St. John's Church, Upper Norwood, 1 Sylvan Road, SE19 2RX. Peter said: "One idea I have had was perhaps doing a session on Flor Peeters, with whom I studied in 1973. I suspect many of the SSLSO members play something by him and I could talk a bit about his teaching (which was rooted in the Lemmens tradition but much more open to modern scholarship than other followers, like Dupre) and his close association with the music of Franck (b.1822) via his friendship and study with Tournemire. Indeed he had Franck's Cavaille-Coll console in his music room at home, bequeathed to him by Tournemire. I could also do a master-class on his music (and/or Franck's) if there were an appetite for that."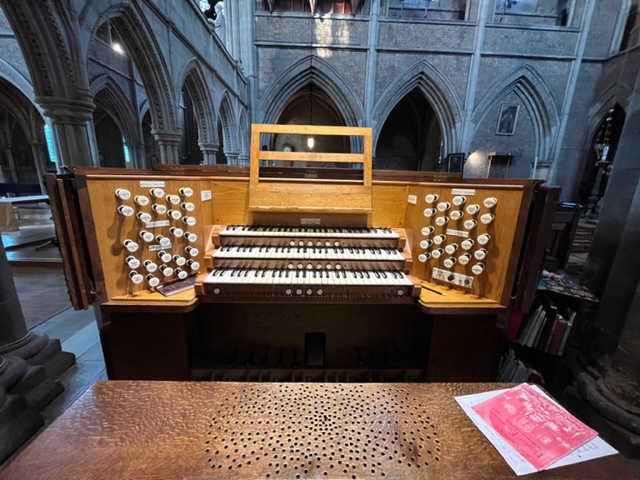 Six members took part in the master-class, playing a variety of music by Flor Peeters and Franck. We also had around 8 observers. Peter gave wonderful insights into the style, phrasing and articulation of the music, sharing his experience of studying with Flor Peeters many years ago. He also discussed the technicalities of French organs of the period, and how best to register the music on English organs such as the Lewis organ at St John's. All present benefitted greatly from Peter's expertise and certainly came away more knowledgeable about Flor Peeters and his music. Peter also kindly provided a copy of Flor Peeters' own notes on Interpretation from his 1973 International Master Class in Mechelen (see below).
Many thanks to Peter Wright for sharing his valuable time with us, and also to our member Lionel Bourne for hosting us at St John's.