The Society returned to Penge Congregational Church this year for its annual Composite Recital on the wonderful Lewis Organ (specification here). Eight players provided a varied and interesting programme, with a suggested (but not mandatory) theme of music either by local composers, or by composers with an anniversary falling this year. Our thanks to Revd. Pam Owen, the Minister, for her support in letting us use the Church and the organ.
Programme
Michael Cooke
"Mike's Dedly" – medley of hymn tunes by J. Bacchus Dykes (1823 – 1876)
Marilyn Harper
Allegro in D minor, No 6 from Set 2 of Op 105 – Charles Villiers Stanford (1852 – 1924)
Sarah Best
Toccata in D minor – Gaston Bélier (1863 – 1938)
Niall Baxter
Impromptu No. 3 in A minor – Samuel Coleridge Taylor (1875 – 1912)
Peter Smith
"The Drunkenness of Noah" – Peter Smith
Nehara Fernando
Pavana: The Earl of Salisbury – William Byrd (1543 – 1623)
Andante Largo – John Stanley (1713 – 1786)
Nicky Jones
Trumpet Tune and Air – Eric Thiman (1900 – 1975)
Norman Harper
Kingsfold – Norman Harper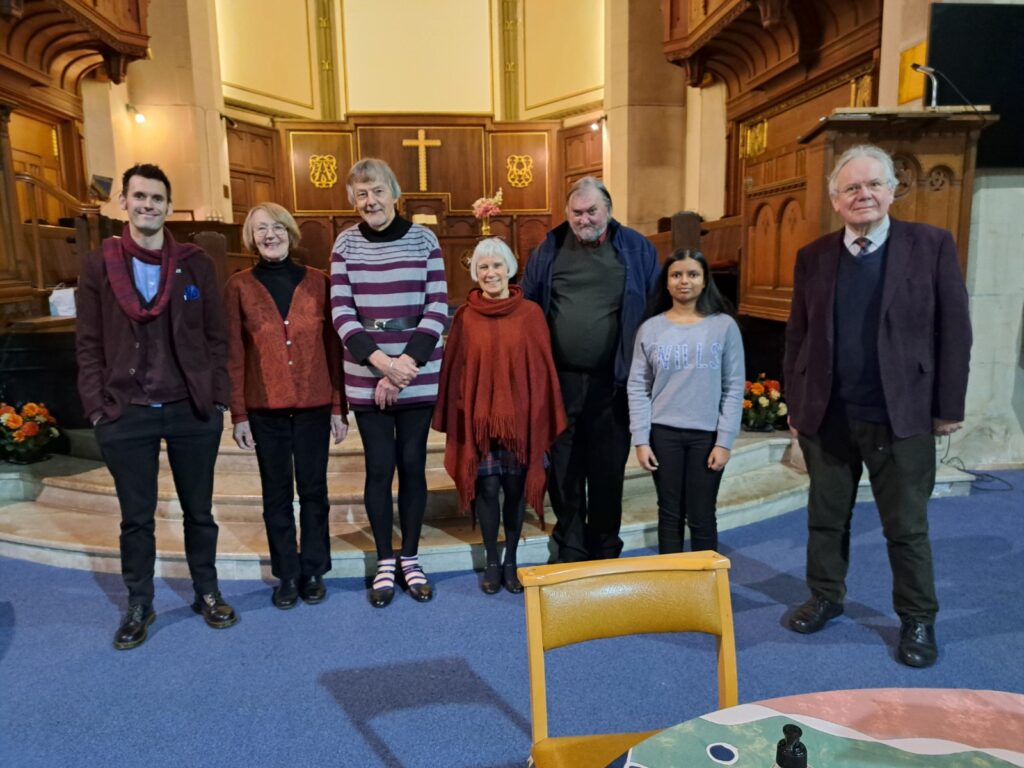 Programme Notes
Michael Cooke
I started to play the organ when I first placed my hands on the keys and produced a few sounds. This was around 1953. I then attended the Guildhall School of Music where I studied with Allan Brown, organist of St Paul's Onslow Square in South Kensington. I then went to the Royal College of Music and did one year of the three-year course, studying with Dr J. Dykes-Bower. Reports of my progress were easily forthcoming as Dr J.D.B. told my father all about me when he tuned J.D.B's piano. After serving a three-year engagement with the R.A.F. two years being spent in Gibraltar where I had more musical opportunities than I can imagine, I returned to the R.C.M. for the final two years of the course, attaining F.R.C.O in January 1963, and A.R.C.M. (organ – performing) in July of that year. I became organist/choirmaster of All Saints Church Whitstable in 1980 where I still am, having recently recruited a lady to run the choir, leaving me to play the organ. To say that we get on with each other splendidly would be to put it lightly. All Saints is the Church where I worship, anyway, being my own parish church (I stepped aside from my seat in the congregation and occupied the organ stool.
I will be playing (improvising) a piece called "Mike's Dedly" (I'm not; really!) but if you reverse the two initial letters and alter the spelling of the name "Dikes", you will get "Dykes' Medley", J. Bacchus Dykes being born in 1823 (my contribution for the request for the marking of an anniversary).
Marilyn Harper
Growing up with the sounds of the Home Service, and Rodgers and Hammerstein amongst others, Marilyn encountered the organ through the sound of the untouched, sparkling Hill organ in Westhoughton Parish Church. Lessons with William Morgan at Bolton Parish Church and membership of his choir led to full time music education in Manchester, Liverpool and Cambridge. Marilyn's teachers included Eric Chadwick, Noel Rawsthorne, John Rutter and Gillian Weir. An FRCO prizewinner, Marilyn married Norman in 1979, teaching and raising the family. She now concentrates on organ teaching on behalf of the Royal College of Organists and at James Allen's Girls' School. She has accompanied choirs at home, on cathedral visits, in secular concerts, and round Europe with choral societies and chamber choirs. Marilyn has given recitals in cathedrals in Birmingham, Ripon, London and Sydney, and in a number of London churches in the City and suburbs. Organist at Christ's Chapel, Dulwich, and at St Augustine's, Honor Oak Park, Marilyn's hobbies include yoga thrice weekly and watching four grandchildren grow up fast.

Charles Villiers Stanford (1852-1924) – Allegro in D minor No 6 from Set 2 of Op 105
Reviewers of recent recordings of Stanford's organ music praise clearly registered, lively performances by some of the UK's younger players. This is welcome when such repertoire sometimes may have conveyed a sense of the ponderous when played on heavy tracker actions organ with heavy registration. Three clear sections display characteristics of elegant dance in the two outer sections and a wonderful stream of flow in the central one. Although a major musical figure in the late 19th century English Renaissance, Stanford is from Ireland, whose traditions of dance and song are infectious, and more than equal to traditions in the rest of the UK.

Sarah Best
Sarah is a freelance organist from north London. She took up the organ about 25 years ago as you can't go on being a ballet dancer for ever. She is also an accompanist for the London's Transport Choir.
Toccata in D minor – Gaston Bélier (1863-1938)
Gaston Bélier was a French composer, a pupil of Gigout and Widor. He was organist at the Cathedral in Pontoise. He only appears to have a small output of organ compositions, his Toccata in D minor is dedicated to Gigout. It's very fast, and a challenging finger exercise !
Niall Baxter
Niall is Head of Music at Woodmansterne School, Streatham. One of the organists at St John's, East Dulwich.
Impromptu No. 3 in A minor by Samuel Coleridge Taylor (1875-1912)
Composed in 1911, a year before his untimely death, the third impromptu, like the second, is in ternary form. The outer sections are in compound time with a hemiola in the opening phrase and occasional augmented chords. The dotted rhythms, minor tonality and loud dynamics contrast with the lyrical clarinet or oboe melody of the middle section.
Peter Smith
I'd like to play a new piece I have written. It was inspired by one of the sculptures on the Doge's Palace in Venice, and is called "The Drunkenness of Noah" – it attempts to illustrate how Noah might have felt when he woke up!
I'm organist at Christ Church, Clapham, conductor of Wimbledon Chamber Society and Vice Chair of SSLSO.
Nehara Fernando
Nehara is fourteen years old and plays both the piano and the organ. In piano, she is currently working towards her Grade 7 exam and in organ she is expanding her repertoire and exploring different styles of organ music.
Pavana: The Earl of Salisbury – William Byrd (1543 – 1623)
We commemorate the composer's death four hundred years ago. This piece is an example of a popular, fairly slow dance during the Renaissance era.
Andante Largo – John Stanley (1713 – 1786).
This is part of an organ voluntary and uses a bold trumpet sound.
Nicky Jones
Nicky was a clinical psychologist in the NHS until retirement in 2012. Currently his main passions are organ playing and regular performances in amateur ballet productions. Nicky started playing the organ when at school after hearing a thrilling performance of J.S.Bach's great Toccata in F on the old Tonbridge School organ. Over 7 years ago he began serious study for a period of several years with Marilyn Harper, RCO Academy teacher. Nicky currently deputises on a regular basis at St John's, East Dulwich and at St Augustine's, Honor Oak Park.
He has also had the exciting opportunity to share playing at Derby Cathedral on several occasions when the choir of St John's has visited the city as part of Derby Cathedral's visiting choirs programme. He is incredibly grateful for the unfailing help and advice so generously and regularly given by Marilyn Harper and by John Webber.
Trumpet Tune and Air by Eric Thiman (1900 to 1975)
Eric Thiman was a distinguished English composer, organist and conductor. He was based in and around London and his organist posts included periods as organist at Beckenham Baptist Church. I like this piece because it is a relatively uncomplicated but spirited and quite typical trumpet tune followed by a rather charming and nicely contrasting Air, before ending with a return to the trumpet!
Norman Harper
Norman Harper was born in south Essex and was organ scholar at Gonville & Caius College Cambridge. As a student he studied organ with Peter le Huray and Gillian Weir, and composition with Peter Tranchell. In later years he studied organ with Noel Rawsthorne and David Sanger. Following a career as recitalist, accompanist, choral director, examiner and teacher, Norman was appointed to the music staff of St George's Metropolitan Cathedral, Southwark, where he served as organist and director of music. Norman has performed in cathedrals, churches, major collegiate chapels and many other venues in the UK, America, Europe and Australia, and has broadcast solo organ recitals on BBC Radio 3. His latest CD Church bells beyond the stars, was released on the Signum Classics label in July 2022. It consists of 20th & 21st century British music, including Peter Tranchell's Sonata for Organ together with music by Cecilia McDowall, Alan Ridout, Timothy Craig Harrison and Thomas Hyde. Norman's organ and choral compositions are published by Encore, Fagus, Guild Publications and the Church Music Society.
Kingsfold – own composition
Norman's Prelude on the hymn tune Kingsfold (associated with the hymn I heard the voice of Jesus say) was written down from an improvisation he played before a Sunday Mass at St George's Cathedral, at the suggestion of a member of the congregation. It is a traditional prelude in form, with the melody in the right hand over an ostinato accompaniment. How closely it resembles the original improvisation is impossible to recall, but the composition has been recorded several times, and is published by Fagus Music.