The annual Composite Recital returned to a live performance at Penge Congregational Church this year, after last year's online recital on zoom. Eleven players provided a varied and interesting programme. It was great to meet in person again, and also to get back to the splendid three manual Lewis organ which is a favourite of many of our members. You can see the full specification here. Our thanks to Revd. Pam Owen, the Minister, for her support in letting us use the Church.
Programme
Marilyn Harper
Toccata Festiva – Guy Scott Turner (b 1955)
Sarah Best
Scherzoso from Sonata No.8 in E minor – Josef Rheinberger
Bridget West
O Antiphon Sequence – Cecilia McDowall (b. 1951)
Nehara Fernando
Trio en Passacaille – André Raison;
Two verses of the hymn tune "Dix", composed by Conrad Kocher, adapted by W H Monk
Alan Langridge
Four variations on "Allein Gott in der Höh sei Ehr", SwWV 299 – J P Sweelinck
Michael Cooke
Partita on the tune "Rheidol" in the style of Pachelbel – Cooke
Irene Wolstenholme
"An Wasserflussen Babylon" BWV 653 – J S Bach
Peter Smith
For The Fallen – Edward Elgar, arranged by Harvey Grace
Nicky Jones
Fugue in C (Bux WV 174) – Dietrich Buxtehude (1637-1707)
Andrew Chadney
Fugue in D minor – Alexander Shawersachvilli
Norman Harper
Choral Song and Fugue – S S Wesley
Penge Composite Recital 2022, Programme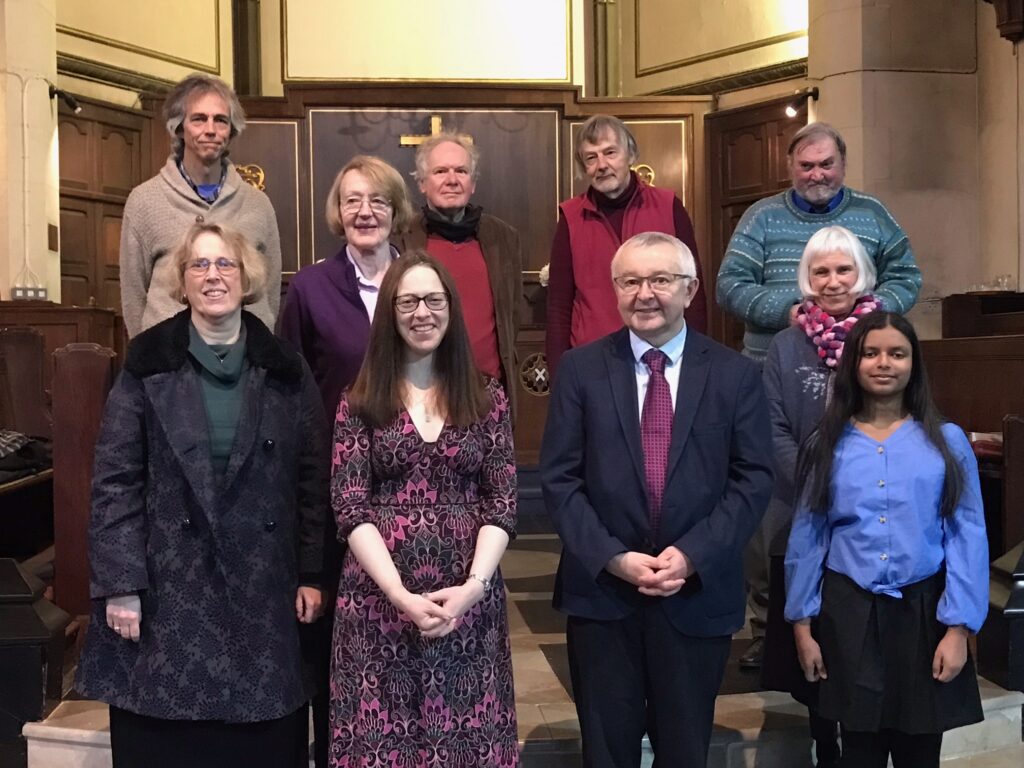 Programme Notes
Marilyn Harper
Toccata Festiva by Guy Scott Turner b 1955
This fizzy and rhythmic toccata was composed by Guy in lockdown in 2021. Guy is currently a lay clerk at Southwell Minster. He, with Marilyn Harper and Simon Pusey, is the founder – conductor of the St Michael's Singers of Cambridge, formed in 1974. The choir still meets every three years to sing Choral Evensong in Southwell. He studied composition with John Rutter and some of his arrangements are published by OUP. He is also a question setter for BBC quiz programmes, including Only Connect and University Challenge.
Marilyn Harper remains an RCO Accredited Teacher of Organ and has aided several candidates to success in RCO diplomas. She is also a recitalist who has played in several London venues, the most recent being St Michael's Cornhill. Her next recitals are in Ripon Cathedral with Norman, and in her own right in Sidcup in July 2022. She has been Organist of Christ's Chapel Dulwich for 20 years and has returned to St Augustine's Honor Oak in the last 6 years.
Sarah Best
Scherzoso from Sonata No.8 in E minor – Josef Rheinberger
Sarah is a free-lance organist from North London, and a long-standing member of the SSLSO. She is also an accompanist for the London Transport Choir.
Josef Rheinberger was born in 1839 in Liechtenstein, but spent most of his life in Munich. His style is generally romantic, and he was influenced by other German Romantic composers such as Brahms, Mendelssohn and Schubert. He had a prolific output. He composed a lot of Choral works, plus many works for organ, notably the 20 Organ Sonatas.
Sarah says: "I'm playing the Scherzoso, which is the third movement from his 8th Sonata in E minor. He wrote the whole Sonata in a week! It's taken me much longer than that to learn just one movement!"
Bridget West
'O Antiphon' Sequence: O Radix Jesse — O Clavis David — O Emmanuel
Cecilia McDowall (b. 1951)
The composer's note: "Each of the seven movements of O Antiphon Sequence is structured on one of the seven notes of the short diatonic scale in a 'circle of fifths' formation, and each individual movement is a response to a short extract of liturgical text taken from the O Antiphons."
"Thoughtful and meditative, O Radix Jesse draws on the text ". . . to you the nations will make their prayer." The continuum of the offbeat pedal D is set against falling and rising expressive chromatic phrases.
"The words ". . . you open and none may close" usher in a bright, open, and uplifting toccata, O Clavis David.
"In the final movement, O Emmanuel, I have used another plainchant, O come, O come, Emmanuel, and bound this beautiful ancient melody to the text ". . . come to save us, O Lord our God." The opening little motive, based on notes from the opening phrase of the hymn, makes a repeated appearance throughout this movement in, I hope, an evocative way. Below the bell-like motif, the re-harmonised chords of the hymn advance, haltingly at times. The short motif concludes the sequence, suspended in mid-air."
Bridget West took up the organ at Christ's Hospital, Horsham, before continuing her music studies at the University of Bristol. Since then, she has played at churches in north and south London, including eight years as the Assistant at St John's, Upper Norwood. Bridget works at the Church Times, edits the alumnus magazine for Christ's Hospital, and was the festival co-ordinator of the Croydon Performing Arts Festival for several years. She serves on the SSLSO committee, and is a member of the Society of Women Organists, recently co-opted onto its adjustable benches campaign working party. Recitals include St John's, Upper Norwood, Christ's Chapel, Dulwich, All Saints', Warlingham, and St John's, East Dulwich.
Nehara Fernando
Trio en Passacaille, André Raison (c. 1640 – 1719)
Nehara is thirteen and lives in west Wickham. She has been learning to play the organ with John Webber since the autumn. She is about to take Grade 6 Piano exam and is both a member of and accompanist for Beckenham Youth Voices.
Nehara will play two items: first, Trio en Passacaille, by the French baroque composer André Raison. After that she will play two verses of the hymn tune "Dix", composed by Conrad Kocher and adapted by William Henry Monk; this is the tune to which we sing the words "As with gladness men of old".
Alan Langridge
Sweelinck: 4 variations on "Allein Gott in der Höh sei Ehr", SwWV 299
Alan says: "It's a short set of variations on the chorale version of the Gloria from the Mass. I first learned this piece in the 1990s and after studying Sweelinck's Fantasia Crommatica with Marilyn Harper 2 years ago I've returned to this piece recently with a much better understanding. I've chosen an early music fingering system which I hope will give it articulation that Sweelinck would have recognised.
He also says: "I live in Penge and am a freelance organist working across South London. I'm a retired Local Government accountant. Before that, I took a music degree and was Director of Music for churches in West Yorkshire and South London (but not at the same time!). I passed the ARCO diploma last year."
Michael Cooke
Partita on the tune "Rheidol" in the style of Pachelbel – Cooke
In Michael's words: "The piece was inspired at a time when I was humming the tune "Rheidol" to myself, and suddenly started thinking up variations in the style of Johann Pachelbel – based on his "Was Gott Tut" partita. The variations came together quite automatically – the result of which you will hear.
"I am currently Organist at All Saints Whitstable. I was born in Maitland Rd – about 1km from here, near to Penge Tunnel. I was associated with Lionel Sawkins at Holy Trinity, Lennard Rd (almost opposite to where I lived). but being Baptist, I couldn't contribute anything very much to the Anglican way of life – that is until I was invited to become Assistant Organist at Southwark Cathedral, where I was confirmed, later taking the High-Anglican approach to the Christian Faith. Unfortunately I spent most of the time there turning the pages for the organist and not playing the organ, so I resigned, taking the post at St Saviour's, Herne Hill but finding a much better post at Holy Trinity, Bromley Common. On moving to Whitstable I tore myself away from H.T, deputising locally and then taking the post at Christchurch, Herne Bay. I didn't fit!! It was later in 1976 when I attended High Mass at Godshill on the Isle of Wight, that I eventually found my niche – later embracing Walsingham and developing a devotion to Our Lady and other Anglo-Catholic practices."
Irene Wolstenholme
"An Wasserflussen Babylon" BWV 653 – J S Bach
"An Wasserflussen Babylon" is one of the "Eighteen" chorale preludes which Bach revised in the last few years of his life, so it shows his work at the pinnacle of his composing experience. It is based on Psalm 137, "by the waters of Babylon", a popular hymn in the Lutheran church, which organists often used for improvisation. Bach's treatment uses a ritornello in the right hand derived from the chorale tune. The decorated chorale is in the left hand, and has 137 notes – though don't try counting them, as it doesn't count the ornaments!
Irene says: "by trade I am an accountant and I now work for a bank, I have been playing the organ since school. Most recently I have been helping Marilyn Harper at Christ's Chapel."
Peter Smith
For The Fallen – Edward Elgar, arranged by Harvey Grace.
"During the First World War, Elgar wrote a three-movement setting for chorus, soprano soloist and orchestra of three poems by Laurence Binyon under the title "Spirit of England". One might have expected this to be a tub-thumping patriotic piece, but it is in fact a sensitive reflection on the horrors of war. Elgar later made a shorter arrangement of one of the movements, which was published separately as "For the Fallen". Later still, Harvey Grace made an organ arrangement of this. It is my regular voluntary for Remembrance Sunday."
Peter Smith is organist at Christ Church, Clapham, where he plays another T. C. Lewis organ. He is the founder and conductor of Wimbledon Chamber Choir, Treasurer of the Elgar Society, and a SSLSO committee member.
Nicky Jones
Fugue in C (Bux WV 174) by Dietrich Buxtehude (1637-1707)
Dietrich Buxtehude was a Danish-German organist and prolific composer of the Baroque period. The style of his compositions had a considerable influence on other composers, including J.S. Bach. This gigue Fugue in C is joyous and energetic. The piece is for manuals with occasional coupling to the pedals, for ease of playing.
Nicky was a clinical psychologist in the NHS until retirement in 2012. Currently his main passions are organ playing and regular performances in amateur ballet productions. He started playing the organ when at school after hearing a thrilling performance of J.S.Bach's great Toccata in F on the old Tonbridge School organ. However he only began serious study just over 6 years ago with Marilyn Harper, his RCO Academy teacher. Nicky currently deputises on a regular basis at St John's, East Dulwich and also at St Augustine's, Honor Oak Park. He has also had the exciting opportunity to share playing at Derby Cathedral on several occasions when the choir of St John's has visited the city, as part of Derby Cathedral's visiting choirs' programme.
Andrew Chadney
Fugue in D minor by Alexander Shawersachvilli
Andrew says: "He was a 20th century Soviet (actually Georgian) composer, born in 1919 in Tbilissi. He studied composition there at the University and from 1955 he taught music theory there. He has written for many forces, including an opera. For the organ he composed this Fugue; there is also a prelude but, as the Fugue is substantial, I will just play that. It starts quietly and builds to a ff at the end.
"I am organist of St Stephen's, Norbury and Thornton Heath and am one of several members who have benefitted from lessons with Marilyn Harper."
Norman Harper
Choral Song and Fugue – S S Wesley
Norman says: "My reason for offering to play it is that it was my parents' favourite organ piece when I was a teenager, and they would both have passed their centenaries by the day of the recital: Mum on 12 Feb and Dad last December."
Norman was organist & director of music at St George's Cathedral Southwark until 2018, and since retirement he has continued to play, examine and compose, but at a more leisurely pace. Forthcoming recitals this year are at St Mary's Ewell, St John's East Dulwich, Ripon Cathedral (duetting with Marilyn), St John's Upper Norwood and St Mary Redcliffe, Bristol.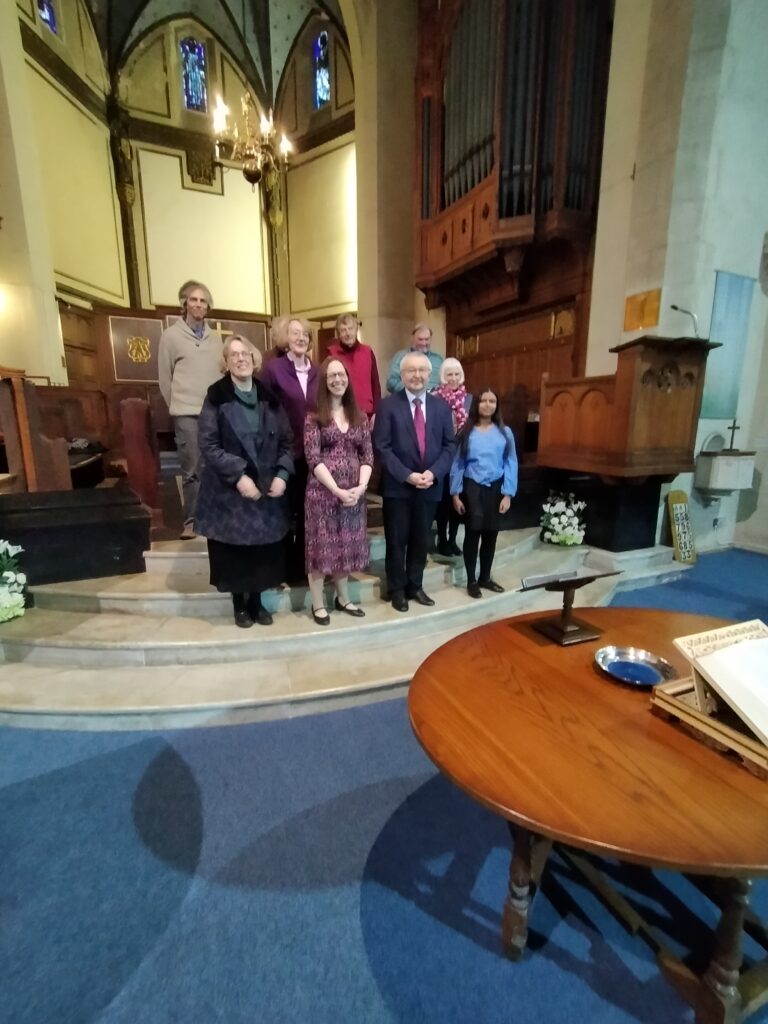 Thanks to Lynn McShane and Devan Fernando for pictures.