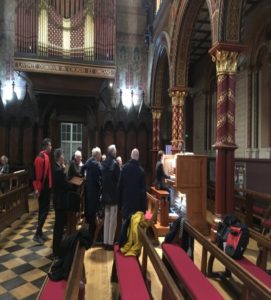 On Tuesday 11 February, SSLSO and the Bromley and Croydon Organists Association organised a joint visit to the organ at King's College London Chapel, in the Strand.  About 25 members of the two societies, and their guests, attended the visit, which included Choral Evensong.
Kings College Chapel is a very striking building, dating from 1864 and designed by George Gilbert Scott.   The organ was originally Willis, but was rebuilt very recently, while retaining a number of the Willis features, including most of the reeds.   The opening recital on the rebuilt organ was in 2018.
We received a very warm and friendly welcome from Ed Jones (acting Director of Music at King's College) and Mitch Farquharson (organ scholar).  Mitch also provided a very helpful and informative demonstration of the organ, and a description of the chapel and services.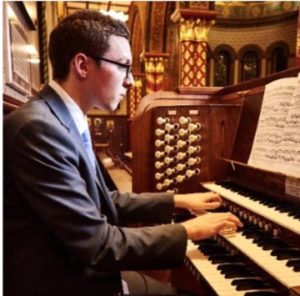 We then had the opportunity to listen to the Chapel Choir rehearsing for Choral Evensong.  It was very interesting to hear the choir and conductor finessing each of the pieces involved.   This was followed at 5:30 by Evensong, which featured the  music of Charles Wood – his setting in F (Collegium Regale) and his anthem "Never weather-beaten sail".    The singing was superb, and the organ blended beautifully with it.
After Evensong about 12 members of the two societies remained to play the organ, or to listen. There was plenty of time for those who wished to play one or two pieces, exploring the organ's resources; whilst others walked around admiring the Chapel itself.
This was a very enjoyable visit and it was very good for the two societies to join together in making it.   Many thanks, in particular, to Norman Harper for organising the visit.
Peter Ramell, March 2020