Time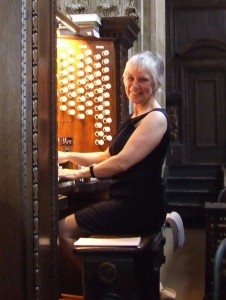 When writing my thoughts about how to play the organ better, one has hoped that something written has meant something to the reader. Occasional feedback suggests that it does, so all is not in vain.
Some of these thoughts are about timing. Frequently, players increase their tempi, not having been adequately taught to play to the pulse. Rushing around and competing is endemic in our society, and may explain why many are prone to rush.
Two notable people died within days of each other, last month, Sir Ken Dodd, veteran comedian from Liverpool and Professor Stephen Hawking. The Church Times printed an eloquent tribute to Sir Ken, describing loyal attendance to his local church in Knotty Ash, where his wife was one of the organists, to the local school where he was a pupil, and to Liverpool Anglican Cathedral where he also attended services. A recent Dean there was our present Archbishop of Canterbury. He hired Sir Ken to speak to a conference of bishops. Any who were nervous at the prospect were soon rolling in the aisles, reduced to mirth by split second timing. Aged only 10, I saw the great Ken Dodd live on stage. Brilliantly timed punch lines, all emanated from northern down to earth humour.
Professor Hawking's ground breaking scientific and mathematical work is all about black holes and time. His mind went to places where none of us has ever dared to tread. Reading The Brief History of Time may not help playing to the pulse, but pulse matters in any aspect of time, no matter how one looks at it. I have read far less of Professor Hawking's work than one should but perhaps one will now try and grapple with some of his ground- breaking ideas, especially when revising old works for performance. I look back and realise how inadequately certain famous pieces were learned, and thank God for the time at my disposal now to put those errors right. It seems like better quality time now that one has learned not to rush from one event to the next.
Humility, intellectual patience, which knows how to wait, easy gesture and being unselfconscious are how we master time. I watched and heard Thomas Trotter play at Bloomsbury Baptist Church at the AGM of the Organ Club. The advantage of that venue is the technology enabling the downstairs audience to watch his movements at the upstairs console. This is what we all need to take note of. He took his time, and all his movements were minimal and tension -free, every note was in exactly the right place, beautifully placed, and correct. Everything had been properly learned. A touch of humour was shown when he described the life of Edwin Lemare, once the highest paid organist in the world, an ambition he said he would like to achieve. Mastery lies in accuracy and timing, and sometimes these qualities can be seen in high- ranking performers in other spheres.
Marilyn Harper